God Still Does Miracles!
The following News Letter is from a trip Paul Norman did in 1989/90 to Fiji, Nauru and Australia
You may recall that in the last newsletter there was a plea for help for a couple here in Fiji facing a serious immigration Problem. Well here's what God did for them.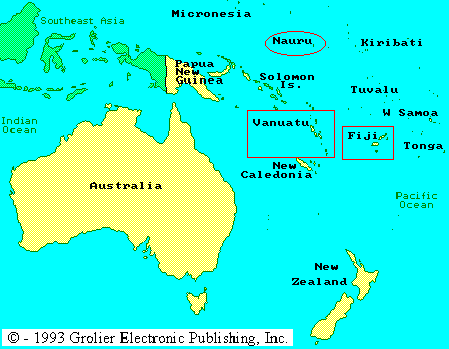 To refresh you Alex and Alma and their two children had been sponsored by the Dutch Govt, to settle in Vanuatu having wanted for years to immigrate to the Pacific, Alex was born in Dutch Indonesia but had lived in Holland for over twenty years, Alma was born in Holland.
Alex's birth place caused him problems in Vanuatu, where a political group that had links with Alex's home district, was held by the Vanuatu Govt, to be dangerous. Simply because of his birthplace and business dealings Alex was viewed to be potentially affiliated to this group. And was there fore given his marching orders.
The family held funds sufficient to get to Fiji hoping then to settle and here God placed them in Christian hands.
Local people made strenuous efforts to obtain work permits for them both but to no avail. Perhaps owing to the close links between Fiji and Vanuatu.
Both Alex and Alma found this hard to cope with at first. But after prayer and counsel and the working of circumstances they saw this as God's will for them (the Fijian Officials were actually about to place them in detention).
During this time three responses came from different parts of New Zealand offering to look after the family. Somehow God pinpointed Steve Saywell of Morrinsville's offer as being His will for their first step.
For family reasons, Steve even travels to the Wellington area, and his job will also allow for him to visit the necessary Govt. agencies.

The brothers and sisters in the Mangatangi and Kaiaua areas (on the Firth of Thames) put together to provide the funds needed to clear the family out of Fiji. All in all they gave well over $2.000. One particular person who wishes to remain nameless particularly helped in this. In the Lord Jesus Name thanks to everyone who gave and or prayed!
Labasa
Last time I gave a long account of the types of problems that the Lord's workers are starting to face here.
While not yet having seen any outward change on the Official side of things the Lord has been
Maybe it is something to do with God's Justice and Mercy to us; whatever you can often see that when one area of the world blocks us God uses another linked area to bless us.

For me, this happened through being invited to be a guest on the Fiji Govt. research vessel, Tovuto.
It all came to pass in this way:

One weekend I was talking over the return of Jesus, with a New Zealand friend here, David Russell. We had both been noticing how God was leading us to think on this a lot lately.
The next week I was asked by a local friend, if I would consider discussing this same topic at some lunch time meetings in a business area of Suva.
The weekend before this series got properly going. I had believed that God was telling me to change my plans for revisiting friends from '84 '85 in the Yasawa group of Islands, and head, instead, for La(m)bas(s)a on Vanua Levu.

On the Monday we had our first lunchtime gathering, members of the Marine Dept come as well. As soon as the Chief Engineer of the Tovutu saw me, he believed he was to ask me to join them on their next major voyage.
I was asked through a common friend would I like to go to Malau on Vanua Levu (which turned out to be the seaport of Labasa).

I was very amazed and very thankful to the Lord for having everything so marvellously planned.
The Island Of Rotuma
It was the same week that Alex and Alma were to leave, that I woke up one morning believing God was saying to get ready. But get ready for what? It seemed the Holy Spirit was saying I was to do my washing.

Then in the middle of the morning, I was rung and told by a friend (Semi Meo) that the Tovuto was leaving earlier than expected, 10pm that night in fact! Well that evening was spent working with local brothers tying up the loose ends of Alex and Alma's departure.
Even though the whole thing seemed a great rush, the Lord confirmed through another brother here, that I was meant to go away that day on the ship. The time was quite busy.
On our first voyage out, the Lord Jesus healed the Second Engineer from the effects of an accident in 1986, when the left side of his face had been Paralysed. This had quite an impact on the crew and survey teams.
The leader of the survey team was suffering from a severe -skin condition. The doctors and hospitals had done what could for him, but it was quickly advancing into "delicate" areas. He was so desperate that he had even been to a witch doctor in Lautoka.
He asked for the Christians on board to pray for him.
He came to an afternoon gathering, and the Holy Spirit helped him with things that he didn't even expect God to touch. And God healed him. Well everyone could see what Jesus had done as the man's condition visibly and rapidly improved.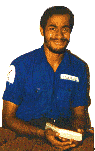 The Electronics Technician, Leniatasi Nakarawa, was healed of pressure damage to his ears (received while diving), and was baptised into Christ the same day. Leni went on to become a dear friend in the Lord. And one who proved to be very sensitive to the leading of the Holy Spirit.

While on shore the Lord provided some amazing openings in Labasa township.
One day while waiting for our return transport to the ship. I was standing at the back of the Labasa market. Quite unexpectedly a short Indian man walked up to me and told me my name was Paul. I acknowledged this and asked his. Bro David Chin (Something. . . ), he said. I asked how had he found or recognised me.

The Holy Spirit told me, he said.

A brother visiting from USA (Nanthaniel an ex Fijian citizen) had been given my mail in Lautoka by brother Ezekiel, before coming to Preach in Labasa. This was a step of faith by bro Ezekiel, as he had no idea where I was on the island at all. Nathaniel, upon arrival in Labasa, tried to find me every where, but couldn't. He didn't really even know what I looked like.

This Bro David also spent a long time trying to help him. There were just too many European in town that week. Then while helping his wife at her stall in the market at the end of the day, he saw me standing by a Pile of vegetables, and said to his wife, that's the man.
She afraid he was going to look silly, asked, how do you know? God told me, he said to her, to which there was no further argument !

Then unexpectedly we were asked to go to assist another Govt. ship which had got stuck with rudder problems in Rotuma. This was for me a wonderful answer to prayer as one couple had shared with me about the place before I left N.Z. and believed that I would go there.
On board, the Lord spoke through Christians to advise the captain of some problems coming up. We set sail in idyllic conditions, picked up the stricken vessel from Rotuma (very beautiful), and set out for Bligh's Water between the two main islands of Fiji.
There a tug was to have met us from Suva. With a good weather forecast we would have settled down for a pleasant voyage, but for the prophecies.

Unexpectedly a storm blew up at sea creating almost hurricane like seas. The bridle on the tow rope broke, and the seas forced us far to the West of our best course. When the satellite fixes came in, we were actually headed in a direction which had been indicated by the Holy Spirit through a Christian on board, predicted even before the tow run had started.
The Lord Helped us considerably through some quite difficult moments. And Jesus stilled the waters in quite a sudden way.
We continued on safely to Suva. The Captain, John Rounds, was Profoundly aware of the Lord 's presence in all these and like things. When we arrived in Suva the next morning, he asked us to have a prayer meeting in the officers' mess to give thanks to the Lord.

Upon our safe return to Labasa from Suva, John was baptised as a follower of Christ. He later testified of these things at a Suva Full Gospel Business Men's dinner.

The man whose partially paralysed face was healed was also baptised in the Holy Spirit later that day. And three weeks later prayed for the Captain's shoulder, which Jesus immediately helped.
We had been away from Suva effectively for a month.

The Friday of the Tovuto's return to home port, saw me sitting on the veranda of bro David Russel's apartment sipping a cool Fanta before tea. Over a period of minutes, I became aware that the Holy Spirit was gently but firmly convincing me that I should at once go up to Tholo~I~Suva, to where Sikove (the Chief engineer) lives. This was to begin a most wonderful follow up to the sea journeys, which has to date seen countless People saved.

But the Holy Spirit had shown him not to go. This was even more amazing because David had prayed that there would be someone there to greet me.

The morning started with a very early meeting, and the Lord did some truly amazing healings.

Staying in the village that night was a man from a distant district called Ra. He was having to leave the next morning, and was wanting to talk with me about the things of the Lord.
Sikove got a local carrier to come and take a number of people down to a local stream pool for dunking into Christ. This snow balled over the whole weekend, and quite a number of people came to follow the Lord Jesus Christ. That night two other Fijian men believed that the Holy Spirit wanted them to come up to Sikove' s place.

We all enjoyed an amazing time of teaching, fellowship and all taking the Lord's supper together.

One of these other two (Sake'usa), is used by God in a similar ministry to the one God has graced me with. He joined Semi Meo and myself, in going up to Delinavesi the next day to visit the Technician, Leniatasi.
Tuesday, I believed God was saying for me to head to Tavua. This turned out to be a time of prophecy and teaching. Tavua is a five hour journey by bus over a lunar landscape type road grandly entitled the King's Road.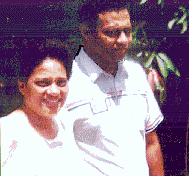 In Tavua I was blessed to stay with Eroni and Fefita Lala who have been faithfully ministering the Word of the Lord there for many years.
I was only away two nights, but God seemed to really use the time. I came back in response to an invitation for a prearranged meeting Tholo~I~Suva on Thursday night.
I was pretty run down physically by Friday afternoon, having missed sleep and regular meals. I became very painfully ill, some terrible form of heart burn. David Russel prayed for me, and God healed me almost immediately. David went out, and by the time Sake'usa came for tea that night, I was both able to make it and enjoy it. Praise GOD !
I slept in Saturday and went into town (Suva) with David Russel. When we'd finished shopping we went to the Bus Station to catch one back to David's flat. How God gave David the flat, and the way has been sharing it are amazing testimonies.
At the bus station, I believed that God was clearly leading me to go up to Delinavesi for the afternoon. David believed to come along as well.

When we got to Leniatasi's, he was asleep He'd been working to clear a natural swimming hole nearby to his house. His wife and I made short order of waking him up!
We all enjoyed a lovely time together, and during the conversation Elanor, Leni's wife said she needed to be baptised.
I had just been given new shorts that day, my old ones had gone west actually after baptising Leni himself some five weeks before. I'd been borrowing his to do others when no one else was available to do baptisms.

So we ended up down at the water hole site that Leni had cleared that morning. Last night they both came up here to David's for dinner, and we really enjoyed fellowship in the Lord together.
THE NEXT MOVE
I am believing that God has shown me to move on in December some time, and I believe that I am at some point to go to Australia.