Around The East Coast - March 1993
Continued from God's Ageless Wisdom

The last twelve months have probably been typical of the intervening four years.

In March last year, Phil Keelan and I were in Wellington and seeking the Lord for direction. We believed to pray with John Silich in Berhampore. John was tied up at first and we prayed in one of his back rooms for quite a while.

During that time, I believed that the Lord started to show me clearly to go to Australia, along with a brother Michael To'o. There were certain places standing out.
Phil was intending to head back up north and had already booked a rail ticket for early the next morning.
John Silich eventually joined us in prayer. He immediately got a map of Australia, and a picture of a VW style camper-van, all of which he believed was from the Lord for me. For Phil, he believed that the Lord was saying that he was trying to leave Wellington too quickly!

I can not emphasise strongly enough that John in himself knew absolutely nothing about either of our movements or plans.

Phil canceled his travel plans, and went on to have an amazing time being led by the Holy Spirit around the Wellington area. God gave him many witnessing opportunities and times of encouraging Christians.
I started discussions with Michael To'o who already had plans for traveling to Australia for family reasons but turned them all over to the Lord for His purposes.

Michael and I believed to head off we thought straight to Australia. Another man, John Tolo joined us.

However the Lord was soon to reveal that He had a few preparations and other things for us to do prior to that.

In Hamilton and Tokoroa God provided us with camping equipment (our tent system for $100 !) and indicated that we should go through Taupo and up the East Coast.

In the Waikato we sewed up the bottom of our tent flies, mozzi nets, and with the help of our sister Whi Poutapu made large square ended sleeping bags. (More suitable for Kiwi guys than the round ended European models.)
God was working on us to bring an openness and honesty between us as a team, knitting us together in love.
Gisborne to Tolaga Bay
In a sense the work started in the Gisborne area. We were all there, with all the gear needed, hitch hiking.

It was raining and bitterly cold, and God said leave Gisborne latter that afternoon. Around 4.00 pm we went out to hitch, having dried our tents in a camp dryer.

We were believing to aim for a campsite D.O.C. (Government Department of Conservation) had told us of at Tolaga Bay along the beach.

We got a lift just north to Wainui Beach, where we waited through the sunset until a man called Reid picked us up. A great guy, quite open and a bit into dolphins and new age. he was headed to the pub at Tatapouri.
The Holy Spirit indicated that we should go into the pub with him.

In the pub, immediately we arrived, a stock and station agent called Dave Allen, from Tolaga Bay, seized upon me as his "safe driver" home.

He appeared to be well up in rugby circles, and was respected by all. He insisted that everyone listen and would not let anyone interupt while we shared about the Lord.
In the end we had shared with everyone bar a few late comers.
Eventually Dave decided it was time to go home.
But on the way he wanted me to drive us to see a farming mate of his. There we got to share with the man's wife who was very open and had faith.

When we got to Dave's house, it turned out to be right down towards the beach front.
After a feed at Dave's, we walked down to our campsite and pitched our tent.
The Man From the Army
Hitching from there to Te Puia, mates from Ruatoria came and fetched us at about midnight (no rides).

We stayed in Ruatoria with Timmy and Horowai Haenga. John Tolo got up later than the rest of us the next day, and still blurry eyed, wandered into the living room just as Horowai's nephew Willy Brown came through the kitchen.

John said, "Brownee, what are you doing here!"
Willy couldn't believe his eyes either.

John had had me pray with him a few times about this man "Brownee" who he had met in the Territorials that Christmas. I'd never clicked that it was Horowai's nephew who'd stayed with them on and off in the past.

Timmy had had a vision it turned out, a few months before, of a man coming from the army and witnessing to his Willy in their home.

We enjoyed a very worthwhile time in Ruatoria and our friends dropped us off at Lotton Point on the East Cape towards the Bay of Plenty.
Wiremu
Now Lottin Point is very remote and very rugged. We camped in a hollow out of general view, and one of us prayed that we could have fellowship with other believers.

Quite an extraordinary prayer when you consider the location.
Amazingly God brought Christian after Christian to us. We did not meet even one unsaved person! And none of the people we met knew us or had heard of us.

Everyone kept mentioning that a man called Barney Dewes lived along the coast road to our west. We prayed together about meeting him. One night we felt that the next day was to be the time to go to his house.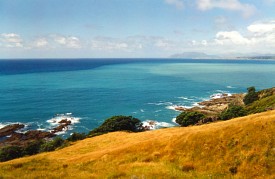 In the morning the Lord gave us to pray that we would meet someone connected with Barney Dewes. I believed to go along to his place around midday. At about morning tea time, a young man just glowing with the Lord's presence came riding on a horse into our campsite.

His name was Wiremu. We shared pancakes and he turned out to be the adopted son of Barney Dewes, who was himself away at a Tangi (funeral).

Wiremu invited us to come along to dinner and make use of their copper to boil up water for washes (there being no power etc in this part of the district).

He decided to head off home at midday, and I accompanied him to learn where it was.
After dinner that evening Wiremu was quite keen to play us a tape of a prophecy over him. Something I do not normally listen to, so that if God gives me something, it comes across as quite objective.
However one time the previous year (1992), a brother who is used quite a bit by the Lord in prophecy (Christopher Waldvogel) had had a vision from the Holy Spirit for Phil Keelan and me when we were all praying at Greg and Norma Tumai's place, before we had headed down to Ruatoria from the Waikato another time. (Phil is from Ruatoria originally and still has family there just out of town.)

Christopher had seen a red-indian with all his headdress and very bright feathers, believing it applied to the Body of Christ, the message being that something which would seem good was not actually for the best.

Wiremu's prophecy was by a man described as a red-indian who'd come through the district holding meetings.
I listened attentively as Wiremu's tape recorder played back this word.
There were things in it which were obviously just from physical observation of Wiremu, and other things which were quite out of order, which it turned out were being used by other people to direct Wiremu's life.

They were trying to pump Wiremu into a certain training programme in Gisborne, and he meanwhile was believing to be doing something else in the South Island!

We worked through the issues of Godly authority and how it works in the Body of Christ.

Wiremu offered to drop us off at our next campsite further towards Opotoki.
From there we believed to head onto Whakatane. We camped in a city grounds, and made contact the next day with Charlie and Francie Mathews. Francie invited us over to stay, and the next day we camped in their house.

Charlie is used by the Lord in writing Christian songs. He had recently written one "Rise up o Valiant Warrior" which he believed to give to John Tolo to encourage him on in the things of the Lord. He recorded it in his sound shed and gave a copy to John.

From Whakatane we believed to go to Rotoehu. Michael had a picture of an inland spring, and Charlie had pictures of tree ferns for us. All of which match in for Rotoehu. We went from there to Te Puke.
Along the journey we were being given opportunities to pray with folk for deliverance and healing. All wonders which God still performs through the Lord Jesus Christ.
We arrived in Te Puke during the late afternoon.
Who Was Seeking the Lord
John and I believed to wander through town while Michael kept the bags for us all. John felt very strongly to go into the Naples Restaurant and talk to some folk down the back, and ask them which of them was seeking the Lord.

Phil Keelan and I had seen the Lord do some amazing things in that Restaurant in the past. But I didn't say any of this to John at that time. John was struggling with the whole idea of what he thought God was telling him to do.

In the end we left it, I didn't want to push John as this was the first time he had so clearly felt God was saying to just do something like that.

We house-sat for friends near Paeangaroa for about a week, The Lord gave some amazing openings while we were based there. We prayed a number of times that God would make up the opportunity which had been lost at the Naples.
At the end of the week just before our friends were due back, we believed that the Lord was telling us to head out on the road around sunset. It was a Friday. Michael really strongly believed that we must go. When we prayed the Lord gave us the name Williams, that's all.
We were picked up shortly afterwards by a man heading to Te Puke who used to run bibles into Moslem lands for the Bible Society in Europe.

We believed to go into the Naples. There you can have your takeaways on a plate. While I put our order in a Maori man approached me and asked if he could join our table.

It turned out he'd seen us outside the Naples the day John had felt he was to go in. This man Wayne, had been sitting down the back. He really wanted to talk with us.

It turned out that his wife in Tuakau had become a believer and his ten year old son was now witnessing to him on the phone.
Wayne's surname was Williams. We were all very very touched by what the Lord had done. None more so than Wayne who as he learned of our earlier prayer refused his mates' demands to go to a certain pub.
We implored Wayne to leave sinful living and turn to the Lord. I believed to share the story of a man who'd made a stand for the Lord in Nauru and then gone back into drunkenness and got killed. It turned out that Wayne had nearly been wiped out in the same way, drunken driving just two nights before.

after tea we started hitching and were picked upalmost immediately around 9pm by a taxi-van ) going back to Mt Manganui (for free!).
We wondered if we were to find a ship and head to Aussi, but the Lord made no opening for us there.

John left us a few days after this, in the Coromandel and Michael and I continued on eventually to Pukekohe.
Lazarus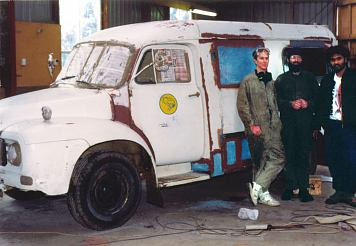 There a brother and sister, Nyron and Laurel Chick believed to give us an old Bedford J1 truck.
It needed a lot of work and Phil Keelan joined us all to make the repairs as did my step cousin's son Matthew Rogers. We called Lazarus because the amount of work that needed to go into it to get it road worthy.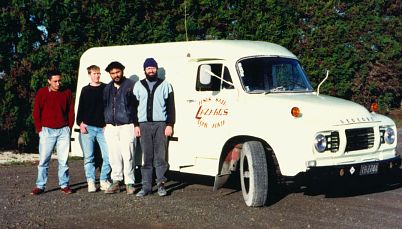 Matthew contributed his cabinet making abilities to set the inside up for us, and then joined us for two weeks ministry till the end of his annual holidays.
Well there is so much to be shared of what happened from there on, but it will have to wait for another time.
Briefly Phil Keelan is in his own car believing to be in the Hamilton area, but then his last letter was a month old by the time it found us.
Michael and I are in the Far North with a dear brother and sister at present.