I had thought several times about simply leaving it until the following day. However I could not sit easy with that.
As I pondered all this in my heart it seemed very clear that the Lord wanted the mailout done that evening. Mike and I prayed and although he had not being believing to come, we both believed to go to New Lynn, and not to our nearest Post Office. When we pulled into the car park near the Post Office, as I opened the van door a woman came straight up to me and asked if we could help her. She had noticed the "Jesus Way" sign on the van door. (God has been telling us to take a more visible profile so people in need can reach us as Christians, I've also believed to wear a simple cross pin on my shirt collar.)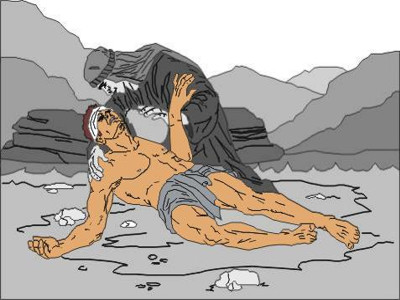 Calling herself Jane, she said that she had had some sort of problem with her relatives, and had been in motels until when she went to get more cash out of her eftpos card, the machine ate her card. She looked slightly fluey feverish and rained upon. She was not entirely coherent at times wandering around in her speech as she tried to relate everything that had been happening to her. She was a European in her early thirties perhaps.
It appeared that she had approached church groups during the day, and now wanted us to take her to a place she had noticed in her wanderings that we were pretty sure was not having an evening meeting.
The rain showers had stopped, but the sun was down and it was getting dark now.
Jane oscillated between being sorry for troubling us, and whenever we were away from the van, hanging very close to the Jesus sign on the driver's door. His name seemed to be all that she had left to cling to.
We told her that we would go around the corner and mail our letters and come back to her shortly. Around the corner we really cried out to the Lord for help on her behalf. As single men we knew we were not taking here in to singlemen's accommodation. We rang various Christian people in the neighbourhood where we stayed but no one was keen to do anything to positively help her. Various ones tried to find someone else and we waited for calls back on the cell phone. Jane became anxious that we seemed to be waiting so long. So was I, and I tried not to show it, Michael was reassuring her that Jesus loved her and would have some where for her.
I believed and knew that God had placed us there for her, but we absolutely did not have the funds to put her in a motel nor could we find any where else to take her.
We could not get through to the Sallies, the local motor camp was full, the refuges had answer machines on, and still no positive responses had come back from the calls we had made to various 'Christians'.
By now we had moved into Mc Donalds. We sat in the Mc Café and fed her cheeseburgers and coffee. I would go outside to field the returning cellphone calls as they came in as I did not want Jane to hear what was going on. I won't repeat what was said that night by different ones. Other than to say that it came out later that some of the people we had rung, not seeing Jane, had feared that she might be a Maori! I feel that no further comment is necessary, as such a despicable thing should be obvious in its sinfulness to any true believer in Christ.
Finally we asked one sister who had rung back, to ask the various Christians who were visiting her place, to pray for God to do a miracle. Apparently her father, in his seventies, immediately went to a side room and started seeking God for Jane, distraught that nothing had happened through the younger people. He felt that it was not in his power to afford any assistance as he did not have his own place. We were to learn latter that He prayed with all his heart for her situation.
I just knew that God was now going to rescue us. Us, because we were standing in the gap for Jane. Neither Mike nor I could leave her until God's solution came through.
Within less than two minutes a group of people came in and sat at the tables right beside us. When their coffees and cakes were brought to their table, they all held hands and prayed giving thanks, but not in English.
Mike noticed as well and nudged me. I was on my way to the nearest man.
'Yes we are Christians!' he answered.
I explained Jane's situation as best as we knew it to be. Then they started talking solemnly amongst themselves in Afrikaans, and with me in English. The judgement that Jesus will make of the sheep and the goats was being mentioned. Next they were all holding hands and praying fervently again. After some minutes, still holding hands they waited upon God. Then they all smiled and looked up at the same time.
I was stunned and very moved, all at once.
Not for many years had I seen such honest, open and as it proved to be, very loving Christianity amongst a group of white skinned people. The man who had brought the party in explained to Michael that they had just left a fellowship meeting, but he felt that they should continue to fellowship together, and intended to take them all to another nearby café. However the Lord impressed upon him, at the very last moment, to bring the party into the Mc Café.
One husband volunteered his family to look after Jane. I was introduced to him and made him aware first that she appeared to be fluey, hot and cold, and a little incoherent at times.
He grabbed my nearest arm with both hands and said,
'Brother, I'm a medical man!'. — Peter, it turned out was a doctor.
We spent some time in fellowship with these dear Afrikaans brothers and sisters and then leaving Jane in their capable hands, we went over to visit some of the concerned Christians in our neighbourhood. A dialogue is now developing on our duties of care and love, with some thought as to what we could all do, to be better available to Jesus, in such situations in the future.
Love in Christ,
Paul A Norman
Main Page