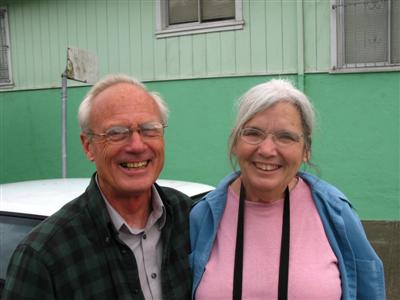 The Lord Jesus sent Evan and his wife April to San Francisco in early 1994 for the sole reason of ministering to the poor. God supplied them with a house bus to live in right amongst the homeless.
Our dear friend Phylis had mentioned them a few times in her letters, and she arranged for Philip Keelan to stay with them when he visited San Francisco in 2006.
So we were excited the day that the Lord Jesus showed us to take the bus up to a house that He had given to them to use in San Francisco (see May Rose Rest Home for the full story).
Evan and April were very kind and hospitable to us, and listened as we shared testimonies of the Lord's grace in our lives. It was great to meet the other Christian men staying in the house as well.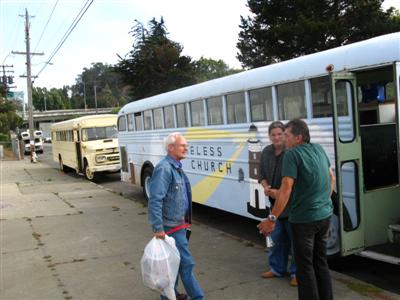 God blessed us to be able to later have Evan and April back to the house where we were staying and film their testimonies. So we have posted some video just below. And we shared together on Sunday in one of their bus meetings. Evan and April had actually lent their own space in the house to another Christian who was going to be based in San Francisco for a while, and were themselves staying back in their old bus again.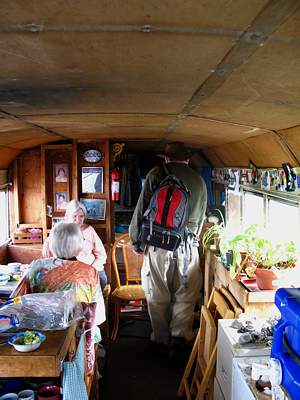 The Sunday meeting was great, we both got to share in the meeting as the Holy Spirit lead. And later had an amazing time of fellowship with Christians from the earlier meeting in Evan and April's bus over copious quantities of tea.
Video: We have placed higher quality (bigger download) versions of the following videos here. If you are on a slower internet connection, please check here for PDA and smaller versions of these videos. To start these vidoes you may need to click their play buttons twice.
| | |
| --- | --- |
| | |
| Evan Speaking on Jesus and the Poor | April on Meeting Christ |